Journal / Our trending Winter hats in 2023
Our trending Winter hats in 2023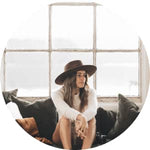 Complete your capsule winter wardrobe with one of our trending women's winter hat styles.
Enjoy free shipping on select orders, when you shop our women's winter hat range.
Anderson Camel - Floppy Wide-brim Hat
Our newest style and this is possibly our most versatile hat yet. It is the perfect accessory to style with your favourite winter dress, or with your comfiest jeans and white tee. Trust us, you NEED THIS.
SHOP ANDERSON CAMEL
Teddy Chestnut - Ugg Bucket Hat
We're calling it, this is the hat of the Winter. In collaboration with Wild Wool Australia, we have gone and made an Ugg Boot for your head, genius.
This bucket hat like all of our others is made from 100% Australian wool and guess what?! It is also manufactured in Australia. 
Our first round of stock sold out in record time for Will & Bear, jump on our next delivery due in September 2023 by pre-ordering now!
PRE-ORDER TEDDY CHESTNUT
Calloway Fawn - Wide-brim hat
Our best-selling style, you can be assured that this hat goes with absolutely everything in your wardrobe. The Calloway Fawn will be your go-to hat when you don't know what to go to!
Anderson Sage Floppy Wide-brim hat
So you're heading to Europe for the Summer? This is going to be your 'drinking wine in Italy hat' or 'sailing the French riviera hat'.
Also works with jeans and a tee for your friends backyard BBQ if you're not going to Europe!
Andy Auburn - Wide-brim Wool Hat
Just when you think you can't find the perfect Winter hat, you better believe we have 'the one'. With its dark chocolate hue, this style takes you from day to night. From winery tours to dinners by the campfire, this style literally has you covered.
Tasman Fawn Beanie
Just because every girl needs a Winter beanie with a pom pom! The Fawn colourway in one of our best-selling beanie styles, the Tasman, goes with absolutely everything. Pop it on with every Winter outfit you have!
Wear this baby on your family snow trip, jacuzzi hopping or telling stories around the campfire at night. This 100% Australian wool beanie is your go-to for a warm head this Winter.
This beanie also comes in kiddies sizing, so you can match your cubs this season.
About the author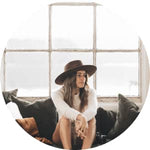 Join the
adventure
Sign up to receive 10% off and access to exclusive content, sales and updates from the road.
Use left/right arrows to navigate the slideshow or swipe left/right if using a mobile device