Journal / Wandering Folk's serene trip to Tintenbar
Wandering Folk's serene trip to Tintenbar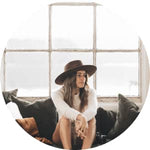 Step into the enchanting realm of Ground House 107R — @groundhouse107r, where our beautiful friend, Sharnee Thorpe — @sharneethorpe, the founder of Wandering Folk — @wanderingfolk, becomes the heart and soul of an unforgettable weekend with her husband, Arthur.
Nestled amidst the captivating landscapes of Tintenbar on the far North Coast of NSW, this extraordinary 20-acre property invites you to embark on a peaceful getaway ideal for a reset like no other.

Sharnee took Buck Bone paired with the Hazel Hat Scarf to keep the sun out on her summer escape.
Arthur hanging out in the pool in his Calloway Bone
Here, in the serene embrace of nature, you'll be guided by how high the sun sits in the sky and truly learn the art of slowing down. The property, thoughtfully designed to be an oasis of tranquillity, with no screens and endless outdoor space, allows you to enjoy your surroundings without being interrupted by emails and notifications.
Nestled in the heart of Northern NSW, this region offers an abundance of exciting activities and attractions waiting to be explored. Here are our top picks:

Byron Bay — If you're looking for food, shopping and a cocktail bar, then this is your spot! You can surf, swim, or simply soak up the sun. Don't forget to visit Cape Byron Lighthouse for breathtaking views

Surfing — The area is renowned for its excellent surf spots. Byron Bay, Lennox Head, and Broken are popular for surfers of all levels.

Country Drives — Take drives through the picturesque countryside, enjoying scenic routes and charming small towns.

Outdoor Adventures — Go bushwalking, mountain biking, or horse riding in the region's beautiful hinterlands. Try kayaking or canoeing on the rivers.

Stay up to date on Sharnee and her beautiful family's adventures by following her Instagram — @sharneethorpe.
Check our Wandering Folk on Instagram.
Book 107R Groundhouse for your next adventure
About the author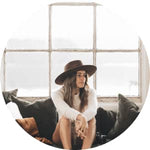 Join the
adventure
Sign up to receive 10% off and access to exclusive content, sales and updates from the road.
Use left/right arrows to navigate the slideshow or swipe left/right if using a mobile device