Journal / A tranquil getaway in Bells Beach
A tranquil getaway in Bells Beach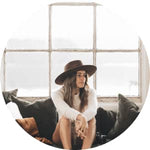 Escape the hustle and bustle of everyday life and embark on an unforgettable journey to Bells Beach, a hidden gem nestled along the captivating coastline of Victoria, Australia. In this picturesque haven, where nature's beauty intertwines seamlessly with a vibrant local culture, discover how to make the most of your two days in this coastal paradise. From invigorating outdoor baths to idyllic strolls through the Otways, join the Vine Family as they don their Woodley Auburn's and share with us their weekend itinerary that ensures an enchanting and rejuvenating stay at Bells Beach.
Where to stay: 
What a beautiful weekend away we had together at Bells Beach — just the two of us. A short 25-minute drive from Geelong, just off the Great Ocean Rd. We stayed at Rosina Beach Shack, a little off-grid cabin located amongst 10 acres of bushland. The block itself is a great spot for photos as well as the iconic Bells Beach only 2kms away.
We enjoyed some lovely walks along the beach, as well as on the property, outdoor baths, sitting around the fire pit, reading, uninterrupted conversation… all the small things we took for granted pre-kids. We had slow breakfasts around the fire pit, picnics at the beach, and dinner at Blackman's Brewery — Dale loves a craft beer but it's the cauliflower pizza for me.

Things to do:
The Surf Coast has so much to see and do, with Torquay and Anglesea being so close, or you could go as far as Lorne to wander through the many waterfalls of the Otway's or go even further to the 12 Apostles. We love living so close to these stunning natural wonders and try not to take it for granted. Taking time to prioritise the two of us can be tricky to coordinate, but we so appreciate it when we can.
Follow the Vine Family on Instagram — @sophie_vine
About the author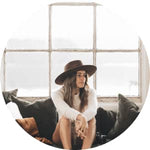 Join the
adventure
Sign up to receive 10% off and access to exclusive content, sales and updates from the road.
Use left/right arrows to navigate the slideshow or swipe left/right if using a mobile device